Postmodern pumping station by John Outram granted Grade II* Listed Building status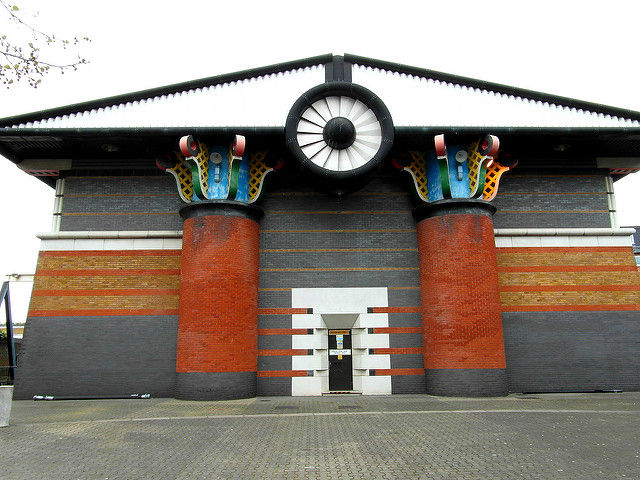 In most cases, function trumps form in terms of pumping station design. Most buildings are utilitarian, nondescript structures, with the exception of late-19th century structures. As for getting Listed Building Status, like rocking horse dump.
This week, we have learned of one exception to the rule, almost an hour from Speedy Jet's HQ. That of the postmodern pumping station in the Isle of Dogs. Designed by John Outram in 1986, it opened in 1988 and broke a few rules at the time. Firstly, its postmodern look owes a debt to Victorian and Edwardian structures, and a Boeing 757 engine.
Secondly, it was one of the few public sector structures to have been authorised by the London Docklands Development Corporation. The LDDC, set up in the first term of Margaret Thatcher's Conservative government insisted on private sector developments. John Outram's pumping station on Stewart Street was a rare exception: Thames Water was in public ownership till 1989.
Historic England has listed the pumping station on historical and architectural grounds. In terms of architectural interest, it was quoted as:
"A highly creative re-working of a familiar formal language, executed with masterful handling of colour, pattern, scale and detail; layers of symbolism create a stratigraphy of meaning and visual richness."
For historical interest:
"[a return] to the C19 tradition of impressive municipal pumping stations, it is a key piece of public infrastructure in what was the most important piece of town planning and industrial reclamation of late C20 Britain, London Docklands."
If you're walking along the Thames Path or passing by on a boat, a photo stop should be in order. A year shy of thirty years old, it hasn't aged whatsoever.
Speedy Jet Drainage, 23 June 2017.